Notices for Leases and Rentals
Legal Forms
Forms that may be used for providing notice to tenants for various reasons like overdue rent, need to inspect property and a number of other situations.
Notices which relate to landlord/tenant matters. Included are a notice to quit, notice to vacate and notice of default under a lease. Also included are notice of option to renew a lease and notification of a denied rental application.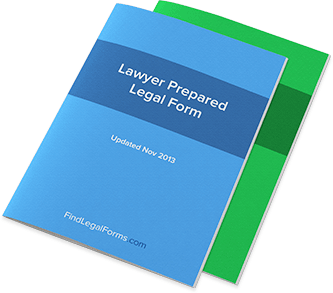 Read more
Leasing Notice FAQ
What are leasing notices?
Leasing notices are any type of written announcement, warning, or statement that relate to a property lease. Though most leasing notices are handled by landlords communicating to tenants, leasing notices can actually be handled both ways.
There are a wide variety of leasing notices, each with its own specific purpose. These notices range from Notices to Vacate, in which a tenant who has already breached a lease is expected to then move out, to Notices of Intent to Enter, wherein the landlord is providing the requisite notice that allows them to lawfully enter the leased property.
While the purposes of each notice will vary, the essential goal of a written lease notice is not only to provide a paper trail of all actions taken in a lease, but to satisfy the requirements of a lease itself. Since many leases contain provisions that detail the procedure for different actions require written notices, these notices satisfy the lease agreement even when other aspects of the agreement have not been satisfied.
What kinds of leasing notices are most common?
In a word: many. But since that doesn't explain much, it's far more useful to take a look at some of the most common leasing notices:
Notice of Intent to Enter: Although the landlord owns the property in question, the lease agreement will often require that they cannot inspect that property without at least providing written notice that they will be entering the premises.
Notice of Service Performed: As the responsibility for major repairs falls to the landlord, keeping a written record – as well as notifying the tenant – of what repairs have been performed is important.
Notices of Termination or Default: If a lease has been breached, it's important that the landlord notify the tenant that they're aware of the breach and are enacting the consequences of that breach.
Notice to Vacate: A written warning that orders the tenant to move out of an apartment by a pre-determined date. This notice should not be served until other notices, like the Notice of Termination, has already been posted.
There are dozens of other notices that landlords might use on a regular basis – particularly if they manage a lot of property – but the four listed above constitute some of the most frequently-seen.
Why does everything have to be written down?
There are generally two reasons that landlords will want to provide written notices: first, it provides them with the necessary paper trail and documentation to show all of the actions they've taken in warning and notifying tenants of certain actions. Second, it may be written in the lease agreement itself that the landlord is not able to move forward with certain decisions (such as entering the apartment) without first providing written notice. The written notice then accomplishes two essential goals with a single action.
What should I do about written notices as a tenant?
Tenants, too, will want to keep track of all the paperwork involved with their lease – as well as mark it down when the proper paperwork has not been posted. For example, a landlord might not be able to post a Notice to Vacate without first having posted other warnings and notifications. For more information, it's best to consult your copy of your own lease to understand which requirements might pertain most to your specific situation.
As for the actions described in the written notices, it will be up to your state laws and lease agreement to determine whether or not these actions are appropriate steps that can be taken. As a tenant, the best you can do is stay informed about lease laws in your state and to know what each provision in your lease agreement means.
What kinds of notices don't apply directly to the traditional tenant-landlord relationship?
While written notices primarily focus on a previously-existing relationship between a landlord and tenant, it is sometimes useful to use notices outside of this relationship. Examples include the Notice of Denied Application, which is given out as written notice to prospective tenants only. The Notice of Assignment of Lease is another written notice that does not apply to the traditional landlord-tenant relationship as it involves a third party.
As a landlord, should I write my own notices?
No. It's important to honor not only your lease agreement, but the state laws that regulate property management in your area. That's why it's important that you use legally-sound written notices that allow you to fill in information rather than write your own notices. Having a written notice that has been reviewed by lawyers and is confirmed to comply with your state laws are easy to procure and will ensure that you're doing your best to handle your property in the most legal, straight-forward manner.
What is the best way to ensure I have all the notice forms I need?
As a landlord, your best bet is to use a combination package of the most commonly-used notice forms. One caveat: before you acquire or download one of these packages, you'll want to make sure that you are using a package that is designed for your state. If your state is not specifically mentioned in the description of the package, then you'll want to find another combination package.
You should also do a bit of your own reconnaissance to be sure that this package will have the forms you need, such as Notices to Vacate, Notices of Intent to Enter, etc. You can find descriptions of important notices you need to have in the answers above.
I've been given a Notice to Vacate. What are my options?
There are essentially two scenarios here: if your landlord has met all of their responsibilities and given you all proper notices as per your lease agreement, then in most cases you'll have little recourse other than to move out by the requested date. However, if your landlord has not provided you with adequate warning before the Notice to Vacate, you may be able to find that they have breached your agreement somewhere, in which case it might be best to consult a lawyer.
# 1516
Lawyer prepared
Our forms are kept up-to-date and accurate by our lawyers
Unlike other sites, every document on FindLegalForms.com is prepared by a lawyer, so you can be sure that you are getting a form that is accurate and valid in Canada.
Verified in Canada
Our forms are guaranteed
to be valid in Canada
Our team works tirelessly to keep our products current. As the laws change in Canada, so do our forms.
Instant download
Download your form in
a format you can use
After you place your order, your forms will be available for immediate download. You can save the file for later use or print it immediately. We make all formats available to you at no extra charge.
Over 3,500,000 satisfied customers
In over 10 years of creating and selling legal forms, our focus has never changed: providing our customers high quality legal products, low prices and an experience that takes some confusion out of the law.
60-Days Money Back
Try our forms with no risk
If you are unhappy with your form purchase for any reason at all, contact us within 60 days and we will refund 100% of your money back.