Non-Disclosure Agreement (Canada)
Agreement between a discloser of proprietary information to the recipient of the information requiring the recipient to maintain the confidentiality of the information.


For Immediate Download
$11.95 CAD
Add to Cart
60-Day Money Back Guarantee
Please select a state
File types included
Microsoft Word
Adobe PDF
WordPerfect
Rich Text Format
Compatible with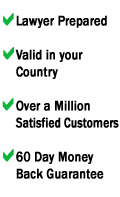 For Immediate Download
$11.95 CAD
Add to Cart
60-Day Money Back Guarantee
Please select a state
Lawyer prepared
Our forms are kept up-to-date and accurate by our lawyers
Unlike other sites, every document on FindLegalForms.com is prepared by a lawyer, so you can be sure that you are getting a form that is accurate and valid in Canada.
Verified in Canada
Our forms are guaranteed
to be valid in Canada
Our team works tirelessly to keep our products current. As the laws change in Canada, so do our forms.
Over 3,500,000
satisfied customers
In over 10 years of creating and selling legal forms, our focus has never changed: providing our customers high quality legal products, low prices and an experience that takes some confusion out of the law.
60-Days Money Back
Try our forms with no risk
If you are unhappy with your form purchase for any reason at all, contact us within 60 days and we will refund 100% of your money back.
Agreement between a discloser of proprietary information to the recipient of the information requiring the recipient to maintain the confidentiality of the information.

This form can be used in the following provinces: Alberta, British Columbia, Manitoba, New Brunswick, Newfoundland and Labrador, Northwest Territories, Nova Scotia, Nunavut, Ontario, Prince Edward Island, Saskatchewan and Yukon.
Dimensions
Designed for Letter Size (8.5" x 11")
Editable
Yes (.doc, .wpd and .rtf)
Usage
Unlimited number of prints
This is the content of the form and is provided for your convenience. It is not necessarily what the actual form looks like and does not include the information, instructions and other materials that come with the form you would purchase. An actual sample can also be viewed by clicking on the "Sample Form" near the top left of this page.
Non-Disclosure Agreement
THIS AGREEMENT
made as of
between
, of
(the
"Discloser
") and
, of
(the
"Recipient
").
WHEREAS
Discloser owns, possesses or controls certain trade secrets, and proprietary and confidential information acquired through the expenditure of time, effort and money, of a technical and business nature relating to
(collectively and individually described as the
"Information
"); and
WHEREAS
Recipient desires to receive, and Discloser is willing to supply, the Information on the terms and conditions set out herein, solely for the purpose of investigating
( the
"Purpose
");
NOW THEREFORE THIS AGREEMENT WITNESSES
that in consideration of the premises and the covenants and agreements herein contained the parties hereto agree as follows:
1.
Discloser shall at its discretion provide such of the Information to Recipient as is required for the Purpose, verbally or in writing. Nothing in this Agreement obligates Discloser to make any particular disclosure of Information.
2.
All right, title and interest in and to the Information shall remain the exclusive property of Discloser and the Information shall be held in trust and confidence by Recipient for Discloser. No interest, licence or any right respecting the Information, other than expressly set out herein, is granted to Recipient under this Agreement by implication or otherwise.
3.
Recipient shall use all reasonable efforts to protect Discloser
'
s interest in the Information and keep it confidential, using a standard of care no less than the degree of care that Recipient would be reasonably expected to employ for his own similar confidential information. In particular Recipient shall not directly or indirectly disclose, allow access to, transmit or transfer the Information to a third party without the Discloser
'
s prior written consent. Recipient shall disclose the Information only to those persons who have a need to know the Information for the Purpose and who have been approved by the Discloser to receive the Information. Recipient shall, prior to disclosing the Information to such employees and consultants, issue appropriate instructions to them to satisfy its obligations herein and obtain their written agreement to receive and use the Information on a confidential basis on the same conditions as contained in this Agreement.
4.
The Information shall not be copied, reproduced in any form or stored in a retrieval system or data base by Recipient without the prior written consent of Discloser, except for such copies and storage as may reasonably required internally by Recipient for the Purpose.
5.
The obligations of the Recipient under paragraphs 3, 4 and 5 shall not apply to Information:
(a)
which at the time of disclosure is readily available to the trade or the public;
(b)
which Recipient can establish, by documented and competent evidence, was in its possession prior to the date of disclosure of such Information by Discloser; or
(c)
any Information which the Recipient is by law required to disclose.
6.
This Agreement shall not constitute any representation, warranty or guarantee to Recipient by Discloser with respect to the Information infringing any rights of third parties. Discloser shall not be held liable for any errors or omissions in the Information or the use or the results of the use of the Information.
7.
Recipient shall, upon request of Discloser, immediately return the Information and all copies thereof in any form whatsoever under the power or control of Recipient to Discloser, and delete the Information from all retrieval systems and databases or destroy same as directed by Discloser and furnish to Discloser a certificate by an officer of Recipient of such deletion or destruction.
8.
When requested by Discloser, Recipient will promptly provide a list containing the full name and address of any person having access to or copies of the Information and the reason such access is necessary.
9.
Due to the valuable and proprietary nature of the Information to Discloser the obligations assumed by Recipient hereunder shall (a) be unlimited in time or territory or (b) if it is held by a court of competent jurisdiction that this provision is illegal, invalid or unenforceable, shall apply only within those territories within which Discloser then carries on business and only up to 10 years after disclosure of such Information. If any provision of this Agreement is held to be invalid or unenforceable in whole or in part, such invalidity or unenforceability shall attach only to such provision or part thereof and remaining part of such provision and all other provisions hereof shall continue in full force and effect.
10.
The Recipient shall indemnify and save harmless the Discloser from all damages, losses, expenses and costs whatsoever resulting from the breach of this Agreement by the Recipient.
11.
This Agreement constitutes the entire agreement between the parties hereto with respect to the subject matter hereof and cancels and supersedes any prior understandings and agreements between the parties hereto with respect thereto. There are no representations, warranties, terms, conditions, undertakings or collateral agreements, express, implied or statutory, between the parties other than as expressly set forth in this Agreement.
12.
This Agreement may not be assigned by either party without the prior written consent of the other party.
13.
This Agreement shall enure to the benefit of and be binding upon the respective heirs, executors, administrators, successors and permitted assigns of the parties hereto.
14.
This Agreement shall be governed by and construed in accordance with the laws of the Province of
.
IN WITNESS WHEREOF
the parties have executed this Agreement as of the date first above written.
You've found your form, but will you need others? If there are other related forms you may need in the future, it may be beneficial to look at our combo packages. On average, customers who purchase a combo package save 40% on the related forms they need. Take a look at the combo packages below to see if one is right for you.

Canadian Non-Disclosure Agreement Combo Package
Get 4 forms for just $25.95 CAD

Save 56%!
Popular Save Money with this combo package containing all of our most popular Canadian Non-Disclosure Agreements (aka Confidentiality Agreements)
Looking for something else?